Categories:
Fire Detection, Smoke Detectors
SKU:
Maker : Autronica
Model : BHH-500 (Smoke Detector)
Part no.: 116-BHH-500
Ship Automation can supply New and Refurbished Autronica BHH-500 smoke detectors.
For more information , please mail us on info@shipautomation.com
Characteristics
Meausured value: Application domain:
Features
Interactive
Different sensitivity settings possible
Comprises the DYFI+ adaptive and self learning functions
SelfVerify functions for reduced maintenance/testing and increased reliability
Additional PCB coating, ideal in humid environments
Detection of visible smoke
Built-in thermistor for reading of temperature at the detector point
Short circuit isolator in each detector
Comprises a built-in alarm indicator (LED)
Automatic addressing
Proven technology
Immune to electromagnetic disturbance
EN 54-7/EN 54-17
Designed to meet the requirement of the major maritime classification societies
Applications
BH-500 is a point smoke detector for detection of combustion gases mainly consisting of visible particles. The detector has a built-in thermistor and is designed for use with Autronica's interactive fire detection systems, which can provide temperature information from the detector point. The SelfVerify function ensures the highest grade of reliability because all units comprising this function are tested with a calibrated test once every 24 hours.
The DYFI+ intelligence combined with the SelfVerify functions and the allround smoke sensitivity of BH-500 makes this detector the obvious choice for demanding applications such as industrial, maritime and offshore installations. The additional PCB coating makes this detector ideal in corrosive and humid environments.
Optionally there is a BH-500/N version for use in hazardous area zone 2. It must be connected to the BSD310/N loop driver, but does not require an isolator/barrier unit.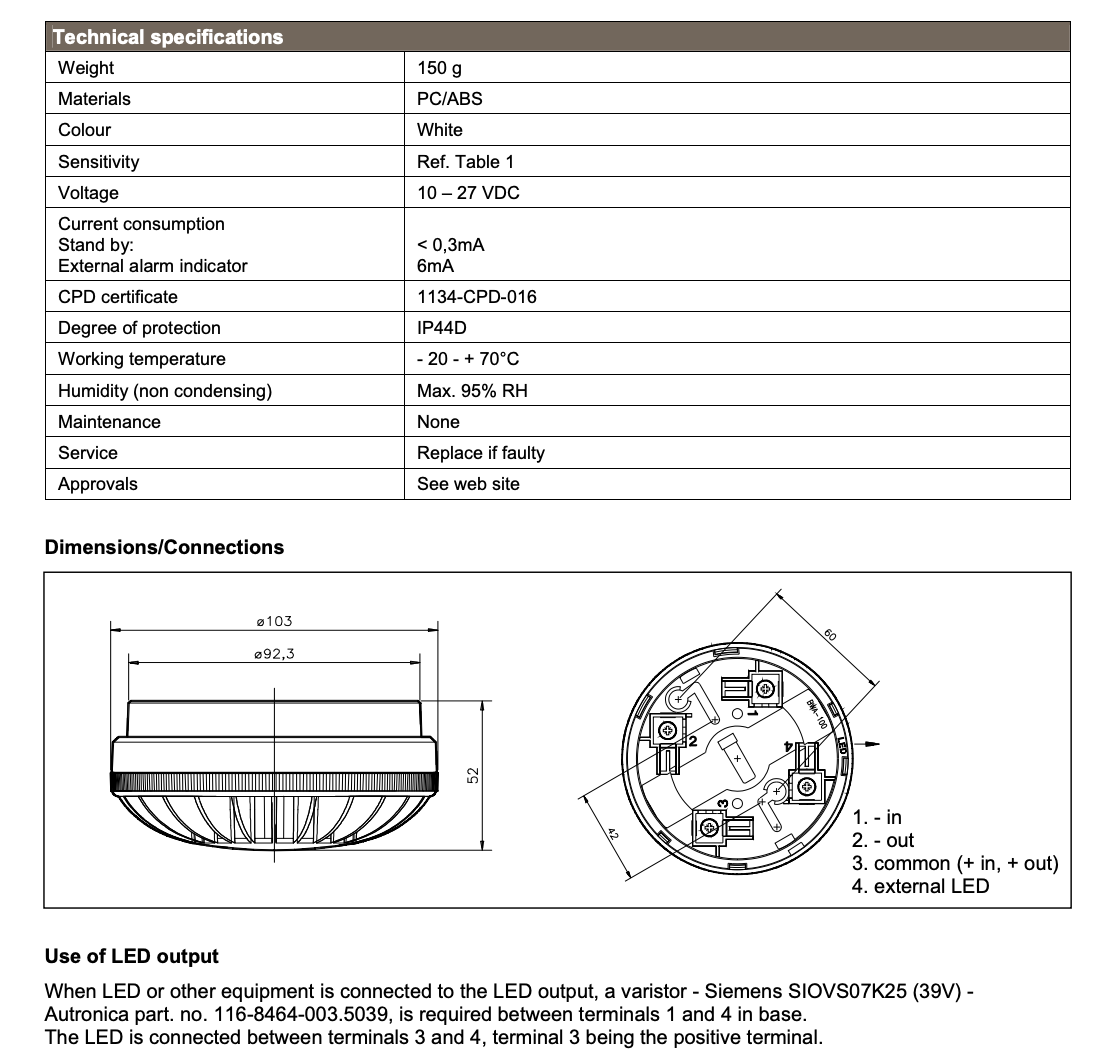 116-BWA-100  – Detector base
116-BHH-500  – Detector head
116-BHH-500/N – Detector head certified for use in zone 2
116-BWP-100/20 – Optional conduit box for M20 glands
116-BWP-100/25 – Optional conduit box for M25 glands
116-BBR-52 – Optional audible indicator – SmartBuzzer
To order Autronica BHH-500 (Smoke Detector) , kindly contact us on below :
Thanks & regards, 
Ship Automation