Categories:
Danfoss MBS 5100, Pressure transmitter & indicators
SKU:
Maker :Danfoss
Model : MBS 5100
Description : Pressure Transmitter
Specification key : MBS 5100-1411-1CB04
Code : 060N1018
Range : 0……2.5 bar
Ship Automation can supply New and Refurbished Danfoss Pressure Transmitter.
To inquire further for MBS 5100 060N1018, Kindly contact us on info@shipautomation.com
Characteristics
Meausured value: Application domain:
The ship approved high accuracy block pressure transmitter is designed for use in almost all marine applications. MBS 5000 with integrated pulse snubber is designed for use in marine applications with severe medium influences like cavitation, liquid hammer or pressure peaks and offers a reliable pressure measurement, even under harsh environmental conditions. The transmitters can be easily mounted directly on the MBV 5000 block test valve or the threaded pressure connection can be used. The flexible pressure transmitter programme covers a 4 – 20 mA output signal, absolute or gauge (relative) versions, measuring ranges from 0 – 1 to 0 – 600 bar with zero and span adjustment. Excellent vibration stability, robust construction, and a high degree of EMC / EMI protection equip the pressure transmitter to meet the most stringent industrial requirements.
060N1018 Danfoss MBS5100 0-2.5 bar 4-20mA Transmitter
Pressure Range:  0 to 2.5 bar
Output Signal: 4 to 20 mA
Voltage: 10-32 VDC
Electrical Connection: Pg 11, EN 175301-803-A, Male and Female
Pressure Connection: G1/4 Female ISO 228-1
Pressure Reference: Gauge Relative
Medium Temperature Range:  -40 to 85°C
Specification key:  MBS 5100-1411-1CB04
to download the Datasheet of MBS 5100 please clink on the above link.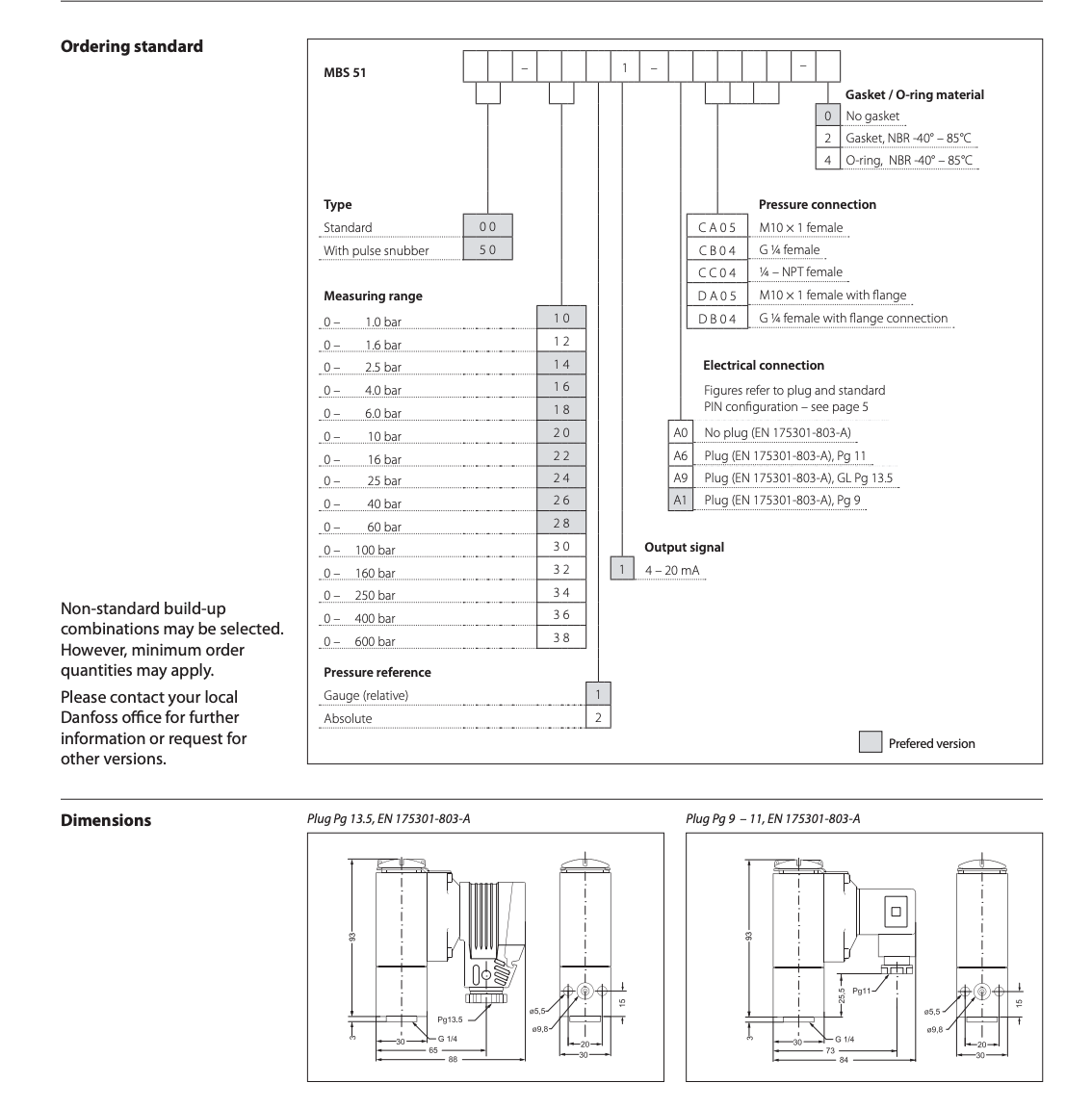 To order MBS 5100 060N1018 , kindly contact us on below :
Thanks & regards, 
Ship Automation