Categories:
Fire Detection, Flame detectors
SKU:
The NS-AUV is an analogue addressable flame detector which is sensitive to ultraviolet light emitted by flames. Due to its high sensitivity to UV-light, the detector has a built-in advanced alarm algorithm to avoid false alarms.
Characteristics
Meausured value: Application domain:
Thanks to the very wide supervising angle it can cover large areas, and the UV tube is protected by a quartz glass. This flame detector is very suitable for use in harsh environments. When the detector is in alarm condition, a red LED on the detector will be lit. The LED will be lit until the alarm has been reset at the control panel. The detector can be connected to the fire detection loop by using two different base plates. The address is set with a DIP switch. The detector is polarity independent. An external LED indicator, buzzer etc. can be connected to the remote output. The polarity of the loop has to be connected according to the drawing below if the remote output is used.
Installation instruction
Mount the detector so that is has a clear view of the whole area where the flames are expected. Avoid shadows by e.g. putting another detector in the opposite corner. The detector has a cone of vision of 100° from the central axe. Place the detector beside, not directly above, the protected object due to the risk that black smoke will block the flames. Place the detector under an angel of 45° downwards. This way the detector will see both down and forward and catch the least amount of dirt. Avoid having potential false alarm sources such as flares in the cone of vision. See illustration on the next page for more details.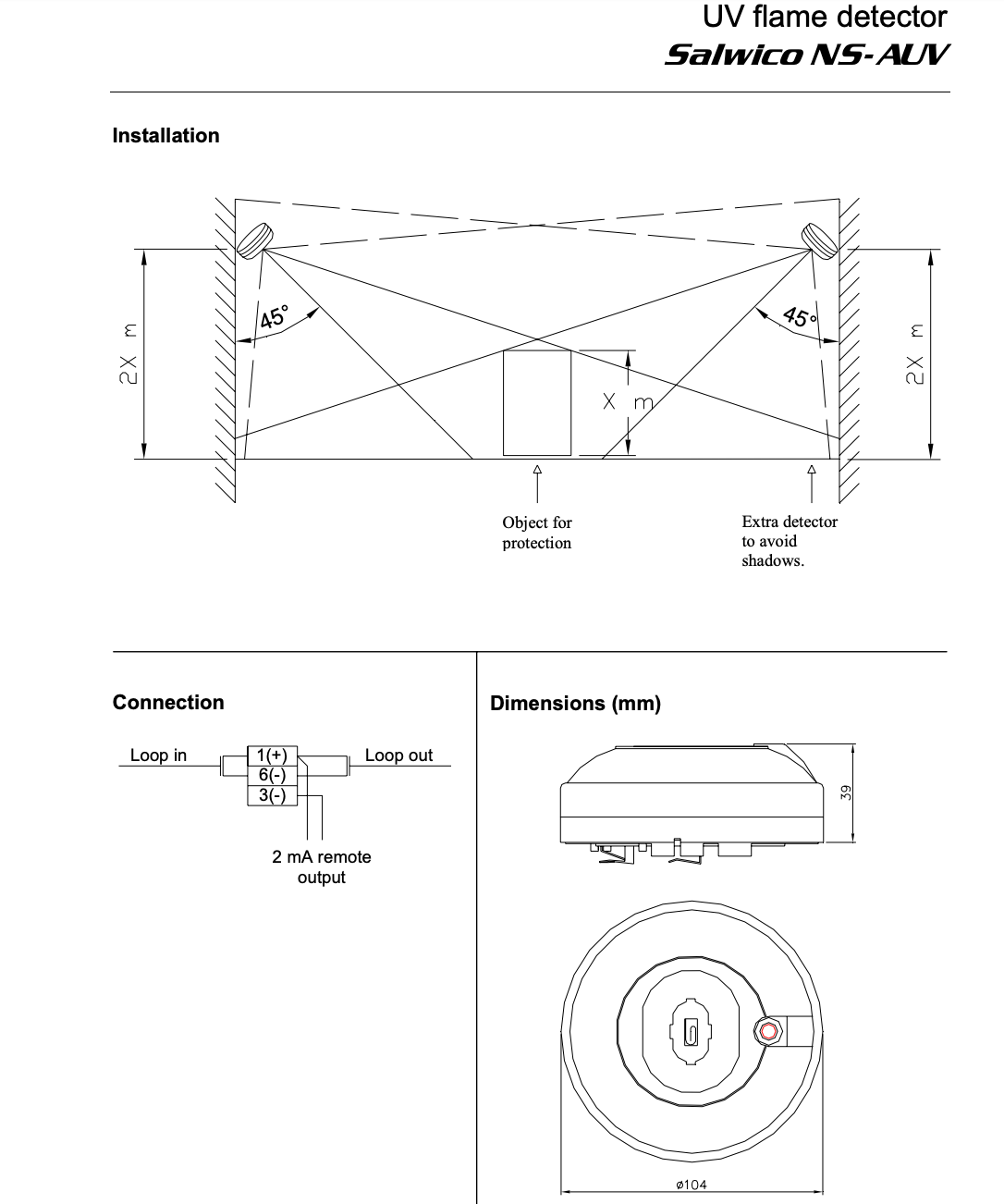 Data
Sensor type : UV Tron
Wave length detection : 185 – 260 nm
Supervising angle : 100°
System voltage : 24 V DC
Operation voltage : 15 – 35 V DC
Operating current – supervising/alarm : 0.3 mA / 2.0 mA
Remote output : 2 mA (for remote indication)
Operating temperature range : -25°C to +70°C
Ambient humidity : 0 to 95% RH
Colour : White
Material : ACS
Weight : ~105 g
To Order Salwico NS AUV Flame detectors , please contact us on below details :
Email : Info@shipautomation.com
Mob: +91 9624 424242